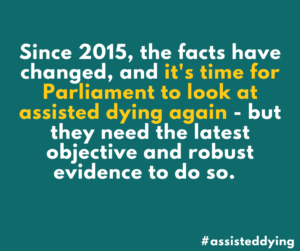 MPs from across the political divide have supported calls for an independent inquiry into assisted dying. My Death, My Decision welcomed MPs' support on this issue. 
In a Westminster Hall debate, Christine Jardine MP, who called for the debate, acknowledged that her own views on assisted dying had changed after the death of her mother and that whilst she may have once been a 'passive' supporter she now saw it as incumbent upon herself to take action. In a bid to move beyond the current political impasse among MPs, she called upon the Government to consider formally issuing an investigation into the law on assisted dying as it stands. 
She said: 'Perhaps the cruellest [fact] of all – it [the current law] can all be avoided if you can afford it. The law as it stands has created a two-tier system. If you have more than ten thousand pounds, you can travel to Switzerland or elsewhere for the end of life care of your choice.' '… I have not used a word normally central to this debate and crucial to the campaigns which are going on outwith Parliament – and that word is compassion. That omission, on my part, is deliberate because for me in our law as it stands there is no compassion.'
Among other MPs who spoke in support of assisted dying, new MP Alicia Kearns spoke in support of Phil Newby, My Death, My Decision's member, saying: 'I've been struck by Phil's considered and measured case and it sits with us to make a decision. The crux of the matter to me is to recognise the terror and agony to have your body turn on you and to wrack you with pain or torture you; for those suffering debilitating and terminal diseases are not just being robbed of life but also death.' 
Later adding: 'To come to terms with one's own death, to depart this life in peace and dignity is a privilege I believe we should endeavour as a society to extend, not limit'. 
The latest pressure to review a change in the law follows after Phil Newby and Paul Lamb recently both had permission rejected by the High Court to challenge the UK's prohibitive law. 
Despite efforts last year to call for an objective assessment of the law, including an open letter organised by My Death, My Decision and signed by a diverse range of thirty-four doctors, politicians, religious leaders, academics, and campaigners, the Justice Minister, Chris Philp, said the government was neutral in the debate and had no intention of introducing legislation. 
Trevor Moore, Chair of the campaign group My Death, My Decision said: 
'Dying with dignity, in a manner of our own choosing, is a fundamental human right. It has now been almost half a decade since Parliament last examined the issue of assisted dying – and the evidence has changed. Progressive countries, including Canada, have proven a balance can be struck between stringent safeguards and respect for individual autonomy, medical opinion has shifted, new evidence has debunked claims palliative care and assisted dying are incompatible, and the number of Britons forced to end their life abroad has doubled to more than one person a week. 
Public opinion has now reached a record high and nearly 90% of the public support a change in the law. But, regardless of one's view, we'd all surely agree assisted dying deserves a serious and robust discussion – our MPs need to be equipped with the latest impartial, independent and objective evidence. 
A call for evidence is essential.'