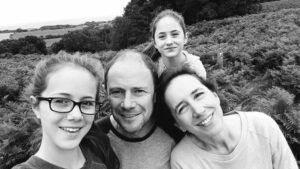 Phil Newby has been denied permission by the Court of Appeal to challenge the UK's prohibitive law on assisted dying. 
Phil, 49, a father of two and member of My Death, My Decision, suffers from the degenerative condition motor neurone disease. His legal case had raised over £48,000 in donations from the public and had asked for the right to undertake a detailed examination of the evidence on assisted dying, and the ability to cross-examine expert witnesses. 
In November, he lost his High Court case, with judges saying court was 'not an appropriate forum for the discussion of the sanctity of life'. 
The latest development follows shortly after the Secretary of State for Justice, Robert Buckland, signaled an interest in initiating a call for evidence on assisted dying – which Mr Newby has pledged to support by providing over nine-box files of evidence in support of a change in the law. 
Reacting to the Court of Appeal's decision, Phil said:
'Whilst I am thoroughly disappointed that the Appeal Court has refused my case a hearing, this decision has made it clear that judges will not engage on the issue of assisted dying, which means that it is down to Parliament to act.'
'There is an abundance of evidence demonstrating the impact that the current law is having on families like mine up and down the country, and of safe practice in the many other countries that developed laws that provide dying people with choice. With the courts refusing to even hear cases like mine, now is the time for MPs to take really account of that evidence and consider how our cruel current law can work better for patients and families. An intelligently crafted assisted dying law is desperately needed.'
Trevor Moore Chair of the campaign group My Death, My Decision said: 
'We find the decision of the Court truly frustrating' 
'Not only is the current law out of step with the modern values of our country, denying those like Phil or Paul Lamb – who has a separate case – the dignity, empathy, and compassion they deserve to die on their own terms,  it clearly no longer represents the view of an overwhelming majority of the public. The expectations all throughout this case was that the court would be willing to engage with reasoned and balanced evidence – but having failed to do so, it is now the responsibility of our Government to initiate a call for evidence – which we urge the Secretary of State now swiftly to do .'