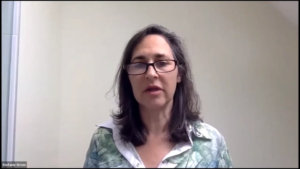 One of Canada's leading assisted dying doctors, Dr Stefanie Green, has urged politicians to 'listen to the evidence' on assisted dying, as part of the 2020 Doran Lecture, an annual lecture series hosted in memory of Frank Doran MP and by My Death, My Decision. 
Her comments came after My Death, My Decision called for the Justice Secretary to issue a call for evidence (public inquiry) into assisted dying earlier in the year. 
As part of the online lecture, jointly run by My Death, My Decision and Friends at the End, Dr Green, the President of Canada's assisted dying practitioners association, explained that as a result of a successful legal case in 2016 and subsequent developments, assisted dying is now permitted in Canada for adults who are either terminally ill or incurably suffering. She expanded this to add that under Canada's law someone is eligible to request an assisted death if they suffer from a grievous and irremediable medical condition, are in a state of irreversible decline, and are enduring intolerable suffering. She also explained that whilst Canada's Parliament had initially restricted assisted dying to people with a 'reasonably foreseeable death', this criterion had proved 'less than spectacularly clear' and that, following another legal challenge in the Truchon case, Canada's Government has now proposed new legislation to remove this narrow limitation. 
Responding to a question about how the UK could best people protect vulnerable people if the law changed, Dr Green said 'people often say 'How do you make sure someone is not coerced?' But clinicians do this everyday in their work, assessing someone's capacity and their ability to speak freely for themselves: this is what we do'. 
She later added because of legal assisted dying, Canada now has 'a much more open discussion about end-of-life options … The need for good palliative care has come to the forefront, because of assisted dying. Because people are now talking about assisted dying, they're now talking about palliative care in a way that the palliative care community had wished they'd been talked about earlier'. 
The themes of Dr Green's lecture clearly struck a chord and during a live question and answer session afterwards many people were eager to learn more about (i) the role patients had played in the evolution of Canada's assisted dying law; (ii) the similarities Dr Green, the Chair of My Death, My Decision, Trevor Moore, and Chief Executive of Friends at the End, Amanda Ward, saw between the UK and Canada; and (iii) why Canada chose not to limit assisted dying to those with six months left to live.  
Notes:
A full recording of the event and slides can be found at: https://www.youtube.com/watch?v=ETA86Dobb90 
The Doran Lecture is an annual talk given in memory of Frank Doran, a Member of Parliament and committed assisted dying advocate. During his lifetime, Frank represented the people of Aberdeen for more than 20 years, and tirelessly championed legal, political, and human rights causes – including assisted dying – before tragically dying aged 68 from cancer. In honor of his achievements and work towards a kinder, more compassionate, and inclusive society – the Doran lecture is delivered by a range of pre-eminent thinkers in favour of assisted dying reform.