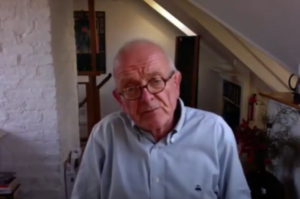 The renowned neurosurgeon and best-selling author, Dr Henry Marsh, has warned that legal assisted dying could be less likely if a law was restricted to those with only 6 months left to live. 
Speaking at an event for My Death, My Decision, inspired by his best selling book 'Do No Harm', Dr Marsh explored how his career as a pioneering neurosurgeon had impacted on his own relationship with death, as well as affirming his belief in the importance of patient choice. He also stressed the importance for mental wellbeing of access to nature within healthcare, something already available at many hospices. 
As part of the event, Dr Marsh reflected on the modern role of a doctor and whether it was confined to merely prolonging patients' lives, or directed instead to relieving their suffering. Identifying strongly with the latter view, Henry spoke candidly about the limitations of modern medicine and how the experiences of his friends and family had helped to shape his own view that a patient's quality of life matters more than just its length. 
Elsewhere Dr Marsh also spoke about his passionate support for assisted dying, and why he believed other doctors, especially within the palliative care community, are often afraid to voice their support for a change in the law, for fear of career repercussions. 
Finally, responding to a lengthy question and answer session, Dr Marsh expressed his hope that assisted dying would become legal in the future. However, challenging the view that assisted dying should be limited only to those who are terminally ill, Dr Marsh went on to warn that a narrow and arbitrary six-month law would deprive people with many of the most serious cases of any hope. 
He said, 'I think the more demanding and serious cases are the ones with incurable suffering, people with motor-neurone disease, again early dementia, and my feeling is that we need to stick to our guns and make a rational case for it. Compromising over six months, I think actually in a sense weakens our case'… [Because opponents will say] 'why six months? Why not five months? Why not nine months?'. 
Notes:
A full recording of the event can be found at: https://www.youtube.com/watch?v=ft2ZpVS0V5o
For any more information or comment please contact My Death, My Decision's Campaigns and Communications Manager at campaigns@mydeath-mydecision.org.uk.
My Death, My Decision is a grassroots non-profit organisation that campaigns for a balanced and compassionate approach to assisted dying in England and Wales. As a growing movement, we are at the forefront of social change: nearly 90% of the public now favours a change in the law to allow adults of sound mind, who are either terminally ill or facing incurable suffering, the option of a peaceful, painless, and dignified death.
Read more about My Death, My Decision's campaign for an inclusive change in the law: https://www.mydeath-mydecision.org.uk/