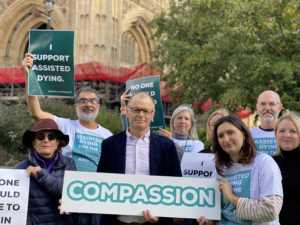 Plans to allow doctors to help terminally ill adults end their lives are closer to becoming law today, after a new Assisted Dying Bill passed its second reading in the House of Lords. My Death, My Decision, which campaigns to legalise assisted dying for those with either terminal or incurable conditions, has welcomed the Bill's progress and the contributions from several peers who called for an expansion to include the incurably suffering. 
The Assisted Dying Bill was proposed as a Private Members' Bill by Baroness Meacher, who is the Chair of the campaign group Dignity in Dying. Under her proposals, adults of sound mind in England and Wales would soon be allowed to request assistance to die if they had six or fewer months left to live. Each request would need the approval of two independent doctors and a High Court judge.
In a debate which lasted more than 8 hours, a majority of more than 100 peers spoke in support of changing the law on assisted dying. Contributions in support ranged from the former Archbishop of Canterbury Lord Carey; former Court of Appeal Judge Lord Etherton; former Supreme Court Judges Lord Mance and Lord Neuberger, who sat as judges during Paul Lamb and Jane Nicklinson's judicial review in 2014; former Metropolitan Police Commissioner Lord Blair; and former Scottish Conservative Party Leader Baroness Davidson.
A number of peers, including Lord Vison, Baroness Bakewell, and Lord Taverne, also highlighted cases of incurably suffering individuals who wouldn't be covered by the Bill or called for it to go further by including the incurably suffering. Additionally, Lord Kerr of Kinlochard made special mention of My Death, My Decision's 2021 Doran Lecture – delivered by the former Court of Appeal Judge Sir Stephen Sedley – when explaining his support for a change in the law on assisted dying.
Commenting on the second reading, My Death, My Decision's Chair Trevor Moore said: 
'The passage of this Bill's second reading is a victory for the human rights and choices of those suffering from terminal illnesses. Although this Bill fails to address the important suffering of those with incurable conditions or more than six months to live, it does recognise that compassion and care should be at the heart of our end-of-life laws. And we wholeheartedly welcome the space it has created to put the voices and experiences of those with both terminal and incurable conditions at the forefront of our national debate. We are delighted by this Bill's progress, but urge lawmakers not to forget about the anguish of those with incurable conditions when considering possible amendments in committee.'
Notes:
For any more information or comment please contact My Death, My Decision's Campaigns and Communications Manager at campaigns@mydeath-mydecision.org.uk.
My Death, My Decision is a grassroots non-profit organisation that campaigns for a balanced and compassionate approach to assisted dying in England and Wales. As a growing movement, we are at the forefront of social change: nearly 90% of the public now favours a change in the law to allow adults of sound mind, who are either terminally ill or facing incurable suffering, the option of a peaceful, painless, and dignified death.