Soap operas Coronation Street and Casualty are due to explore assisted dying storylines at the same time. Both include characters who are suffering from Motor Neurone Disease (MND) and are looking to take control of the end of their lives. My Death, My Decision welcomes the awareness of this key issue and calls on the UK government to stop exporting compassion for people suffering unbearably to Switzerland, by introducing an assisted dying law here.
Potential spoilers below
This weekend, Casualty will run a double episode which will follow character Gethin as he travels to Switzerland to an assisted dying centre. Gethin is reminded of his options multiple times before deciding to proceed with the assisted death. Over 550 UK citizens have died at Dignitas, one of multiple Swiss assisted dying centres, since 2002.
The emotional episode will apparently see Gethin and his former partner in the show, Jan, make the most of their remaining time together, with a day trip and a picnic.
There have been hints that Jan may face questioning and further issues with the police upon her return to the UK for accompanying Gethin to have an assisted death.
Assisting a person to take their own life is illegal in the UK. People who accompany others abroad could face up to 14 years' prison for doing so. From 2009 to 2023, there have been 182 cases referred to the Crown Prosecution Service by the police that have been recorded as assisted suicide, though few prosecutions.
If Jan is investigated by the police, the story could closely mimic the real-life story of Sue Lawford, who was arrested at 5am, held for over 16 hours and investigated for six months, for accompanying Sharon Johnston abroad for an assisted death.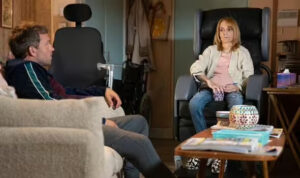 Over on Coronation Street, character Paul Foreman is set to confide in his friend Todd Grimshaw over his assisted dying plan, following Paul's Motor Neurone Disease diagnosis earlier this year.
It is unclear whether Paul will proceed with the assisted dying plan. 
Recent assisted dying Bills in the UK, which have not passed, have been limited to people who are terminally ill with six months or left next to live. While Motor Neurone Disease is terminal, it is not always simple to call when someone has six months left to live and some people diagnosed with MND would not be able to access the law if it were legalised.
That is why My Death, My Decision is calling for a compassionate law where people who are incurably, unbearably suffering are eligible, no matter how long they may have to live.
MND affects up to 5,000 adults in the UK at any one time. There is a 1 in 300 risk of getting MND across a lifetime.
If you have MND, you may have concerns about the later stages of the disease and what will happen with your future. The Motor Neurone Disease Association has an in-depth end-of-life guide. 
Trevor Moore, Chair of My Death, My Decision said:
"Both Coronation Street and Casualty are set to show the realistic scenarios that many people in the UK are facing today. Some of our members will be watching and reliving their own experiences. I would encourage every MP to watch these storylines and wake up to the reality of the difficult choices faced by people who are suffering unbearably from Motor Neurone Disease and other incurable conditions. MPs have the power to give them the choice of a peaceful death, when they choose and surrounded by those they love.
Despite excellent palliative care in the UK, many people will face overly medicalised, drawn-out, unnecessarily painful deaths. The UK should aim to have the most compassionate laws in the world, and they certainly should not be exporting compassion to Switzerland."
Notes
For further comment or information, media should contact Nathan Stilwell at nathan.stilwell@mydeath-mydecision.org.uk or phone 07456200033.
MDMD works with numerous people who have been affected by the blanket ban on assisted dying in the UK – they may be available for interview.
Read more about My Death, My Decision's campaign.
My Death, My Decision is a grassroots campaign group that wants the law in England and Wales to allow those who are terminally ill or intolerably suffering the option of a legal, safe, and compassionate assisted death. With the support of over 3,000 members, we advocate for an evidence-based law that would balance individual choice alongside robust safeguards and finally give the people of England and Wales choice at the end of their lives.