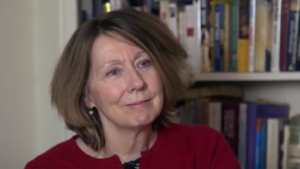 Award-winning journalist of the Times' Spinal Column and author of The World I Fell Out Of Melanie Reid MBE, has criticised attempts to limit assisted dying for those with only six months left to live, in a filmed interview shown at an online event jointly hosted by My Death, My Decision and Friends at the End.
In an interview with My Death, My Decision's Chair, Trevor Moore, Melanie explored how her attitudes towards assisted dying had changed following an accident ten years ago which left her a tetraplegic. Melanie explained that whilst she had always supported personal autonomy, assisted dying had become all the more important to her after her accident, because if the option existed she would be able to live a happier life; secure in the knowledge that if her pain ever became unbearable she would be able to end it. 
Responding to the criticism of disability rights organisations, Melanie said that no two people experience disability in the same way and that whilst some people may not want the option of an assisted death, that does not permit organisations – even those purporting to speak on her behalf – the right to say at what point her life is liveable, endurable, or enjoyable. Adding that robust safeguards can be created to protect those who may be perceived as vulnerable, she said: 
'I have very little control in my life in the sense that I am fairly powerless. When you end up paralysed and in a wheelchair, you lose a lot of your power, authority, or agency. That power that I have, that bit of control, that knowledge that my fate will not be decided by anyone else and that I can choose the time of a good death; surely that is the one bit of agency that I am entitled to?' 
Following the showing of the interview the Chair of My Death, My Decision, Trevor Moore and the Chief Executive of Friends at the End, Amanda Ward, also answered a series of questions, ranging from safeguards which could be incorporated into future legislation, whether attitudes may have shifted since 2015, and barriers to future legal reform. 
NOTES:
For the full recording of the event, visit: https://www.youtube.com/watch?v=XEQUSuUZhy0
For the full recording of Melanie Reid's interview with Trevor Moore, visit: https://www.youtube.com/watch?v=F4B6Drn0E1Y
For a transcript of Melanie Reid's interview with Trevor Moore, visit: https://www.mydeath-mydecision.org.uk/wp-content/uploads/2020/05/Trevor-Moore-in-conversation-with-Melanie-Reid-Transcript.docx