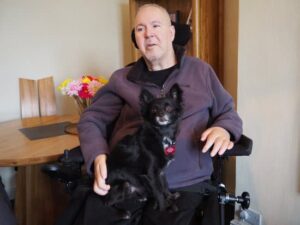 The Court of Appeal has rejected a bid from Paul Lamb to challenge the law banning assisted dying, in a judgment expected to end further legal cases for the foreseeable future. We are disappointed at the decision and urge Parliament not to allow this ruling to become the last word on assisted dying. 
Paul, a 65-year old former builder, now a patron of My Death, My Decision, has been paralysed from the neck down since 1990. He is campaigning to change the law on assisted dying and wants the right to die if his pain ever became too much to bear. 
My Death, My Decision had been supporting Paul's legal case and would have sought to intervene if he had been granted permission to pursue it. It campaigns to legalise assisted dying across England and Wales for people who are terminally ill and incurably suffering, like Paul, who have made a clear decision, free from coercion, to end their lives. 
Paul's lawyers had argued that the current ban on assisted dying, which affects those who are physically unable to end their lives (e.g. by going to Switzerland), discriminated against Paul as a disabled person and therefore infringed his human rights under Article 14 of the European convention of human rights.  
However, the Court of Appeal decided not to grant Paul permission to bring his case to a full hearing, meaning that it ended before Paul was able to make his full arguments. 
Dismissing his appeal, Lord Justice Nick Phillips said that previous cases had established assisted dying was now 'a matter for Parliament, not the courts'. 
Speaking after the decision, Paul said he was 'devastated' by the judgment but was determined to 'continue fighting' to change the law. Rebuffed by the courts, Paul is now supporting My Death, My Decision's campaign for an inquiry and has called on the Secretary of State for Justice to instigate a call for evidence or call on Parliament to do so. 
Following the decision, My Death, My Decision's Chair Trevor Moore said: 
'Following this latest rejection of assisted dying by the Courts, the spotlight falls squarely on Parliament. With public opinion overwhelmingly in favour of a compassionate law for the UK, politicians are out of kilter with those who elected them. To dispel the often alarmist propaganda promulgated by opponents, My Death, My Decision supports Paul Lamb in his call for a public inquiry. 
We can see as we look to other countries how a compassionate law with robust safeguards can attract and increase public trust – in those that have introduced a law, public support remains high.'