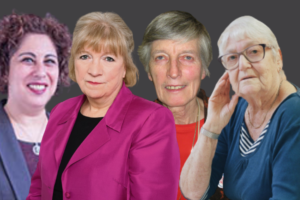 Hundreds of households joined My Death, My Decision's panel event online on 21 July, to hear from Polly Toynbee, Dr Wendy Savage, Diane Munday, and Natika Haliland their fascinating discussion on the topic of 'A Woman's Choice? Fighting for the right to die and women's rights'. 
When introducing the event, My Death, My Decision's Chair, Trevor Moore, highlighted findings that he said raised the possibility of a gendered dimension to assisted dying. For example, a higher proportion of British women end their lives, by travelling to Dignitas, than in countries where assisted dying is legal. And, according to data revealed to My Death, My Decision via a freedom of information request, women are twice as likely as men to confess to the police when they have assisted someone to die.
The resulting discussion explored the similarities between the campaigns to legalise abortion and extend women's reproductive rights – in which the veteran campaign Diane Munday, renowned women's rights activist Dr Wendy Savage, and executive of the Family Planning Association Natika H were closely involved – and the issue of assisted dying. 
Recognising that women are disproportionately likely to suffer from autoimmune problems, such as Alzheimer's or Multiple Sclerosis; the similar moral arguments based on autonomy; the parallels between opponents of abortion reform and assisted dying, it was suggested that whilst assisted dying may have a particular impact on women, it wasn't a women's issue per se. 
However, several panellists cautioned against allowing a right-to-die to become legal for only a limited number of people in society, such as the terminally ill. Drawing upon the difficulties experienced in amending abortion legislation, Diane Munday warned a limited assisted dying law would be of use to few people and very difficult to change afterwards. 
At a particularly moving juncture, Dr Wendy Savage also discussed her personal experience of accompanying a close friend to Switzerland, and Diane Munday revealed the agonising conditions her husband endured after suffering a stroke that left him paralysed. Diane Munday said: 'the pleading look in his eyes will stay with me until my dying day. Under extreme pressure of emotion and pain, he could get the words out "die please". I cannot count the hours I spent sitting beside him with him saying "die please"'. 
The event concluded with a lively discussion of questions from the audience, which ranged from securing support amongst the media, the unique vulnerabilities of women and assisted dying, and the shifting attitudes among the medical profession in relation to assisted dying. 
My Death, My Decision's Chair Trevor Moore said: 
'Assisted dying is often framed as a simple and binary debate. Yet, as with any other issue in society, the way in which our current law impacts upon people differs depending upon their background and experiences. And inevitably this means it affects different people in different ways.
'This is why we thought it was so important to provide a platform in which to discuss the experiences of women and the potential gendered dimensions of this debate. Whether assisted dying is a feminist issue, or indeed whether it should be framed as such, remains an open question. However, we were delighted by the thoughtful contributions of Polly Toynbee, Dr Wendy Savage, Diane Munday, and Natkia Halil – which made plain the urgent need for a change in the law, and the risks of adopting a law limited to the terminally ill alone.'
Notes:
For any more information or comment please contact My Death, My Decision's Campaigns and Communications Manager at campaigns@mydeath-mydecision.org.uk.
About My Death, My Decision
Read more about My Death, My Decision's campaign for an inclusive change in the law: https://www.mydeath-mydecision.org.uk/
My Death, My Decision is a grassroots non-profit organisation that campaigns for a balanced and compassionate approach to assisted dying in England and Wales. As a growing movement, we are at the forefront of social change: nearly 90% of the public now favours a change in the law to allow adults of sound mind, who are either terminally ill or facing incurable suffering, the option of a peaceful, painless, and dignified death.