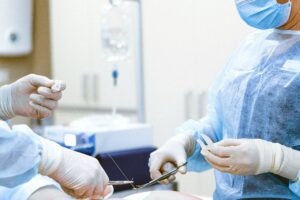 A majority of Surgeons support assisted dying, according to figures from a survey of the Royal College of Surgeons of England. 61% of respondents to the survey said they personally support a change in the law. 29% said they were opposed and 10% undecided.
This has led the Royal College of Surgeons to end their opposition to assisted dying. 
52% said the Royal College of Surgeons should be supportive of a change in the law to permit assisted dying. 20% said the College should take a neutral position on the provision of assisted dying for mentally competent, terminally ill adults.
In relation to the role of doctors in any future assisted dying process, 59% felt doctors should be involved in confirming a patient meets the eligibility criteria; 42% thought doctors should prescribe the drugs and 23% thought that doctors should be present while patients self-administer the drugs.
Following the survey, the Council voted to adopt a neutral position on the issue. 
The British Medical Association ended its opposition and moved to a neutral position on assisted dying in 2021. This reflects the position of similar medical bodies including the Royal Colleges of Physicians, Medicine, Nursing and Psychiatrists.
Trevor Moore, Chair of My Death, My Decision, said:
"Medical professionals are increasingly coming to the conclusion that assisted dying should be legalised in the UK. The Health and Social Care Committee must surely give due weight to this in their conclusions following the current inquiry into assisted dying.
The public support change, doctors across the spectrum support change – now politicians need to step up and give people who are incurably suffering or terminally ill the right to take control over their own bodies and, ultimately, their own deaths."
Notes:
Members of the MDMD team, as well as individuals affected by the current law on assisted dying, are available for interview upon request
Read the survey here: https://www.rcseng.ac.uk/about-the-rcs/government-relations-and-consultation/position-statements-and-reports/assisted-dying/ 
For further comment or information, media should contact Nathan Stilwell at nathan.stilwell@mydeath-mydecision.org.uk or phone 07456200033.
My Death, My Decision is a grassroots campaign group that wants the law in England and Wales to allow those who are terminally ill or intolerably suffering the option of a legal, safe, and compassionate assisted death. With the support of over 3,000 members, we advocate for an evidence-based law that would balance individual choice alongside robust safeguards and finally give the people of England and Wales choice at the end of their lives.
Read more about our work with the Assisted Dying Inquiry: https://www.mydeath-mydecision.org.uk/2023/05/15/assisted-dying-inquiry-health-and-social-care-committee-takes-next-steps/