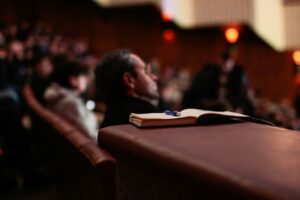 Jersey's government is moving forward with plans to convene a citizens' assembly on assisted dying, and has invited more than 4,000 residents to register their interest in taking part. The move has been welcomed by My Death, My Decision as a positive step towards securing a meaningful change in the law. 
The jury, which will comprise of 18 – 24 randomly selected members of the public, will advise Jersey's government on whether assisted dying should be allowed after undertaking a detailed examination of the evidence. This will include in what circumstances a change in the law should be allowed. According to a poll commissioned by the group End of Life Choices Jersey, who are My Death, My Decision's partners in the UK Assisted Dying Coalition, up to 86% of islanders believe the law should allow assisted dying for both those who are terminally ill and incurably suffering, in at least some circumstances.
Welcoming the announcement My Death, My Decision's Chair Trevor Moore said: 
'With nearly 90% of the public favouring a change in the law on assisted dying, and doctors casting the most ballots in favour of the British Medical Association supporting reform, it is clear that a gulf now exists between the public, our doctors', and our lawmakers' attitudes on assisted dying.' 
'This is why after clamouring for a change in the law, it is so significant that the public in Jersey will soon be given an opportunity to shape the debate and be brought into the decision making. We commend Jersey's government for not allowing this initiative to stall in the wake of Covid-19, and hope that with similarly strong calls for a fresh examination of the evidence elsewhere in the UK and Crown Dependencies, that the UK Government will take inspiration from Jersey and commit to a public inquiry immediately'. 
Notes:
For any more information or comment please contact Keiron McCabe, My Death, My Decision's Campaigns and Communications Manager at keiron.mccabe@mydeath-mydecision.org.uk or phone 07396694470
Read the press release from Jersey's government on its Citizens' Jury 
Read more about nearly 90% of the public supporting assisted dying.
Read more about My Death, My Decision's campaign for an inclusive change in the law: https://www.mydeath-mydecision.org.uk/
My Death, My Decision is a grassroots non-profit organisation that campaigns for a balanced and compassionate approach to assisted dying in England and Wales. As a growing movement, we are at the forefront of social change: nearly 90% of the public now favours a change in the law to allow adults of sound mind, who are either terminally ill or facing incurable suffering, the option of a peaceful, painless, and dignified death.